M Ster
MM Ster Preferent
MMM Ster
MMMM Ster Preferent
Johannes is a supercool Friesian stallion with an amazing character. He has all you can wish for: fantastic looks, lots of manes, strong conformation, top movements and a great character. Johannes is a truly impressive horse because of his hight and appearance. When you are looking for an eyecatcher, then Johannes is what you are looking for!
Johannes also stands out as a riding horse. Because of his hight he was broken in under saddle only a few months ago, but we can already say that the basics are well confirmed. Johannes is very willing, calm and cooperative in training. He learns new exercises very easy.
Loading Johannes on a truck or trailer or taking him to the farrier is not an issue. Johannes is fine with it and undergoes everything with lots of patience and great confidence.
Johannes was approved on x-rays.
Studbook papers (Click to enlarge):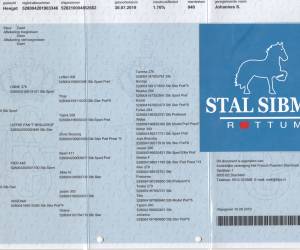 X-ray report (Click to enlarge):